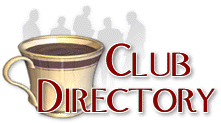 This directory lists over 2300 clubs related to Antiques and Collectibles
Click here to register your club -- Its FREE!
Find a club by name, starting with the letter:
A B C D E F G H I J K L M N O P Q R S T U V W X Y Z Other


Alamo Buick Club
Focus: Buicks
Contact: Vince Parziale
225 Charon Point
Spring Branch, TX 78070 US
Phone: (830) 935-2421
Website

Welcome to the Alamo Buick Club website! Our club was formed in 2001. We welcome new members and their Buicks. If you need more information or are interested in joining, below is contact information.

We are located in San Antonio, Texas. Thank you for stopping by. Please click the links below to obtain contact information, pictures from a recent event, old magazine ads for your viewing pleasure, and some interesting links.