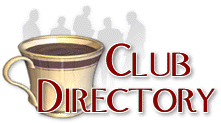 This directory lists over 2300 clubs related to Antiques and Collectibles
Click here to register your club -- Its FREE!
Find a club by name, starting with the letter:
A B C D E F G H I J K L M N O P Q R S T U V W X Y Z Other


All God's Children Collector's Club
Contact: Kathy Martin
PO Box 5038
Glencoe, AL 35905 US
Phone: 205-492-0221
Website

Unique Handmade Collectibles by Alabama Artist Martha Holcombe - Root.

We are your complete resource for the latest in All God's Children collectibles. Be the first to see the Newest Introductions or discover who the next Retirees will be. Looking for an All God's Children Dealer in your area? Use our VIP Dealer Directory to search for the one nearest you.

Our goal is for "All God's Children" to send a message to society - evoking feelings that transcend time, race, and age; that they may somehow convey God's message of love so you will be reminded... "You are loved. You are a child of God."