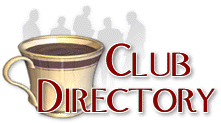 This directory lists over 2300 clubs related to Antiques and Collectibles
Click here to register your club -- Its FREE!
Find a club by name, starting with the letter:
A B C D E F G H I J K L M N O P Q R S T U V W X Y Z Other


American Air Mail Society
Focus: Airmail Collecting
Publications: Monthly: Airpost and Quarterly (Jack Knight Air Log)
Contact: Rudy Roy
P.O. Box 110
Mineola, NY 11501-0110 US
Website

The AAMS was founded in 1923, and is the second oldest aerophilatelic society in the world with over 1,500 members worldwide. The AAMS publishes the monthly magazine The Airpost Journal & the Jack Knight Air Log, as well as the American Air Mail Catalogue, and many other aerophilatelic books. See the list of Airpost Journal & Air Log Staff & Department Editors. See the Publications page for the aerophilatelic books & publications which are currently available. The AAMS holds an annual convention, as well as a Spring and/or Fall meeting during philatelic exhibitions in different parts of the country.

Dues are as low as possible, privileges and services to members are many. It is not necessary that a person be an advanced collector or a wealthy specialist to attain membership-or to enjoy aerophilately to its fullest extent. The only requisite is a good character and air mail collecting as a genuine interest. AAMS members feel it is a genuine honor and privilege to be affiliated together, and many members gather often at stamp shows. Many of aerophilately's most successful exhibitors, judges, writers, and editors belong to the AAMS.