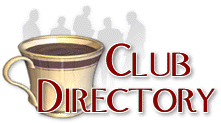 This directory lists over 2300 clubs related to Antiques and Collectibles
Click here to register your club -- Its FREE!
Find a club by name, starting with the letter:
A B C D E F G H I J K L M N O P Q R S T U V W X Y Z Other


AMC Rambler Club
Contact: Sandy Busque
Membership Chaiperson
77 County Road
Saimsbury, CT 06070 US
Website

AMCRC was founded in 1980 by Frank and Elaine Wrenick to encourage and promote the preservation, restoration and collection of automobiles produced by American Motors Corporation. The Club also encourages preservation and collection of all information and printed matter relating to these cars. In furtherance of these objectives, AMCRC publishes the quarterly Rambler Reader, the monthly Ad Release, the annual Parts Source Guide, holds and participates in National and Local Car Meets, and maintains a Club Library of technical information.

AMCRC is a group of volunteers who have come together to assist each other in finding the parts, services, and advice necessary to keep our AMCs on the road using AMCRC Club publications and services to facilitate the interchange of information that we need to do this. We also promote the AMC hobby and try to make others aware of the history of AMC and their wide variety of automobiles through our Local and National Car Shows.

Owning a car is not a requirement for membership. If you like AMCs, you are most welcome. As a member, you get free ads for anything you want to buy or sell, and this may help you to find that AMC that you are looking for.