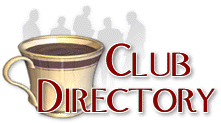 This directory lists over 2300 clubs related to Antiques and Collectibles
Click here to register your club -- Its FREE!
Find a club by name, starting with the letter:
A B C D E F G H I J K L M N O P Q R S T U V W X Y Z Other


American Airgun Field Target Association
Publications: Newsletter: AAFTA Newsletter
Contact: Cliff Smith
8725 Osage Dr.
Tampa, FL 33634
Phone: 813-884-0507
Website

AAFTA is an Association of Member Clubs throughout the United States that all shoot and support Field Target in America. It's main goal is to promote Field Target shooting clubs in the United States. AAFTA is responsible for establishing a set of Rules and Guidlines so that participants may compete in regional and national competitions in a manner fair to all. AAFTA is also responsible for the maintinence and distribution of these rules to it's affiliated clubs in the interest of creating a standard among all of its members. AAFTA also assists affiliated clubs in conducting regional and national competitions governed by these same set of Rules and Guidelines. Through it's every act and deed, AAFTA strives to further the sport of field target as a gentlemanly sport in its conduct, safety, fairness and participation by all members. And through doing that, AAFTA promotes shooting as a healthy recreational activity to the general public.

Organizationally, AAFTA consists of a governing body called the Board of Governors as well as the member clubs that shoot and vote on changes to it's bylaws, rules,and guidelines. The Board of Governors consists of a Chairman, Vice-Chairman, Secretary/Treasurer, and three (3) additional governors charged with being the voice of AAFTA providing a "buck stops here" position on all questions relating to organization and conduct. The Member Clubs that make up AAFTA, all have a single vote as long as they are in good standing when issues are brought forth at the Nationals. This ensures that the smallest club is just as equally heard as the largest.

AAFTA is responsible for overseeing a National Championship Match each calendar year. AAFTA Member Clubs put in bids each year to hold a future Nationals where shooters from all over the US and even Canada come together and compete for the top prizes of National Champion. Plus a whole year of really great bragging rights!